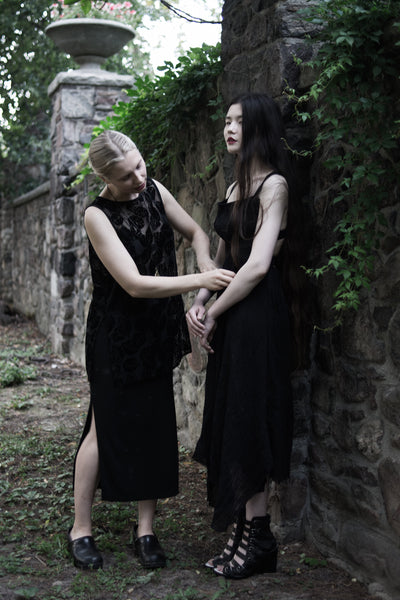 NUIT Clothing Atelier
   NUIT presents a marriage of the sacred and the profane, organic shapes in a man-made landscape. Each garment is designed to shroud and strengthen the body. Founded in 2012, by Anastasia Ikonnikova, NUIT began as a project which aimed to bring the other-worldly into the everyday. Initially born into the world of music and performance, NUIT weaves a dreamscape of mysticism, nature and art into each collection, distilling these inspirations into talismanic, physical form.
 Anastasia creates garments which are both conceptual and flattering. Fabrics and materials with innate beauty are a starting point for design, with subtle, intricate details adorning the final garment. An emphasis on eye-catching silhouettes empower the body. The colour palette is harmonious and minimal, allowing the natural elegance of the wearer to be the center of focus. Black is often the language of NUIT, for black is infinite, like the night-sky.
Each collection is handmade in our downtown Toronto Atelier in limited quantities. With an emphasis placed on minimal production waste, natural and sustainable materials, as well as, conscious design practices, NUIT rejects modern fast-fashion business models and strives for a sustainable, local and ethical production process.